Hardware Prerequisites
Compatible Raspberry Pi:

4 Model B
3 Model B+
3 Model B
3 Model A+
2 Model B
1 Model B+
Zero
Zero W

5V 2.5A Micro USB Power Supply
Device Installation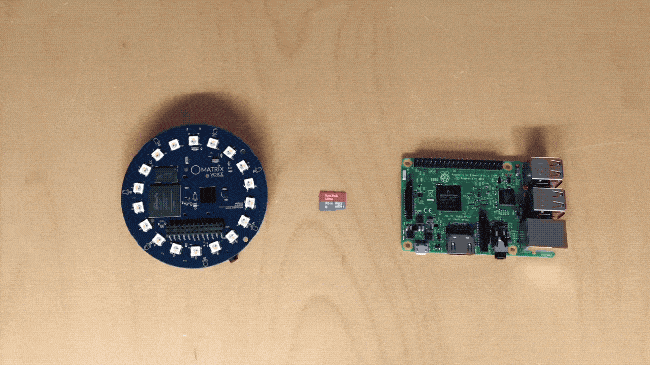 Steps
Insert flashed microSD card into Raspberry Pi
Attach MATRIX Voice onto Raspberry Pi GPIO pins
Power Raspberry Pi with micro USB power supply
The yellow startup LED sequence (with 1 LED off) will be removed when a programming environment is installed.
Choosing A Programming Environment
After your MATRIX Voice is setup, visit Ecosystem Overview for information about the three programming environments available to you in the MATRIX platform.
All 3 programming environments are compatible with the MATRIX Voice & MATRIX Voice ESP32 version on a Raspberry Pi.
ESP32 Setup
Users with a MATRIX Voice ESP32 version can also follow this guide on how to program their ESP32 module.